Ledu Optoelectronics participated in the Asian Digital Exhibition Exhibition
Views : 6705
Update time : 2020-07-16 13:11:32
BEIJING LEDU EXHIBITION TECHNOLOGY DEVELOPMENT CO.,LTD.
Beijing Ledu Zhanchen Technology Development Co., Ltd. was founded in 2012. Is the industry's leading provider of multimedia exhibition technology services and products, focusing on the exhibition display field, proficient in upstream and downstream industries, stable operation, continuous innovation, open cooperation. The products are widely used in science and technology museums, museums, planning halls, enterprise halls, shopping malls, entertainment night tours, etc.



Booth No.: 3E220, 221
The main projection lens products are jointly developed and designed with domestic and foreign experts. Ledu has completely independent intellectual property rights. 40% of the core components are processed abroad, and the overall product is a global high-tech product assembled in China. Provide customers with third-party HD lens solutions.



Some high-end projection lens products are imported from abroad as a whole, and Ledu sells them domestically. Provide customers with third-party original lens solutions.
In the whole hall system integration service, whole hall feasibility analysis and multimedia deepening design, intelligent exhibition hall central control system, projector third-party long and short-focus high-definition lens, slide rail screen, mechanical exhibition device custom development, AR VR interactive program custom development, Interactive lighting installation, ultra-high-resolution video playback and synchronization system, as a general contractor, design company, film company, integration company, provide competitive product service solutions.



Phone: 010-62125889

Official website: www.ld-lens.com, www.leduzc.com

Email: admin@ld-lens.com
Asia Digital Exhibition Exhibition

Asia Digital Display&Showcase Expo



Digital is pervasive, digital everywhere is 5G scale commercial, high speed, high capacity, low latency and other characteristics provide a fertile ground for the development of the digital exhibition industry. Hongwei International Convention and Exhibition Group specially invited a number of consultants to gather at the 2020 Asian Digital Exhibition Exhibition for industry exchanges and discuss technological innovations.



The Asian Digital Exhibition Exhibition Expo will join forces with the 2020 Asian VR&AR Expo and Summit Forum, the Asian Landscape Industry Expo, the Asian Paradise and Attractions Expo, the Asian Tourism Scenic Equipment and Public Service Exhibition, and the World Cultural Tourism Industry Expo. , Firmly grasp the opportunity and pave the way for industrial upgrading in various industries.


The 2020 Asian Digital Exhibition Exhibition will be held on August 3-5, Guangzhou·China Import and Export Commodities Fair Complex. This expo will go deeper into various fields of international digital exhibitions and integrate more global elements. The exhibition involves digital exhibition halls, digital In the fields of vision, digital display, night tour economy, visual design, etc., a series of activities such as parallel summit forums were held at the same time, and many big coffees were invited to explore and analyze the market conditions of the industry to discuss new developments, new business opportunities, and new challenges. Many media cooperated to form an all-media rectangle online and offline, and together helped the digital exhibition and display industry to enter the development "fast lane". People from inside and outside of the industry are welcome to come to communicate and connect with various resources.
"LEDU OPTOELECTRONICS" projection lens shines brilliantly at 2023 InfoComm Beijing Exhibition
Jul .28.2023
Beijing InfoComm exhibition was a complete success, thank you for coming!
Ledu Optoelectronics has obtained the special new certification and will continue to work hard
Jul .14.2022
Ledu Optoelectronics has obtained the special new certification and will continue to work hard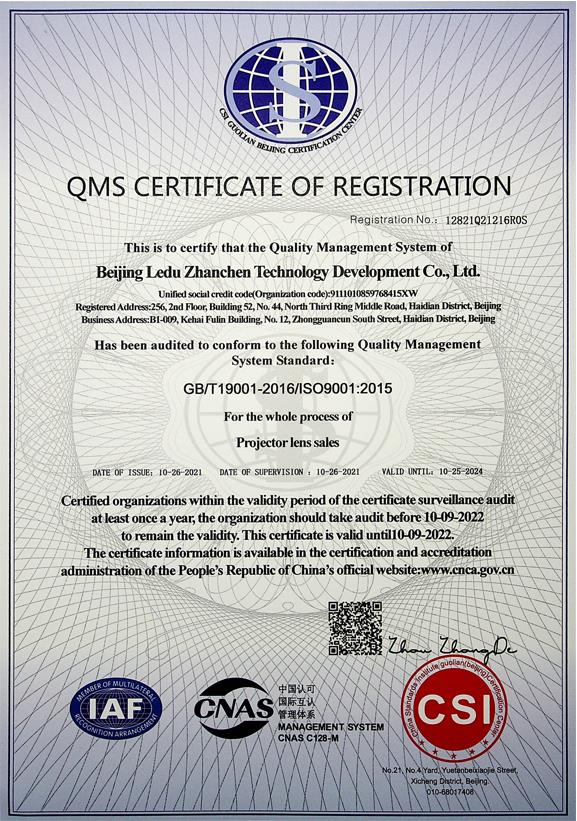 Ledu Optoelectronics obtained ISO9001 quality management certification
Dec .28.2021
Ledu Optoelectronics obtained ISO9001 quality management certification